Many potential clients for the 40 Sedan have asked about alternative layouts for the 2nd cabin. Some year's ago I was aboard a Jersey 40 that belonged to some good friends of ours from Cape Elizabeth, Maine. We spent one amazing evening on board their boat and the functionality of their boat's interior layout stuck with me to this day. The Jersey 40 was built with a mid galley and a second cabin which they had set up as dinette. As dinner preparations took place, the chef was still very much a part of the social gathering in the salon and once the dinner bell was rung, we moved down to the dinette for an amazing meal.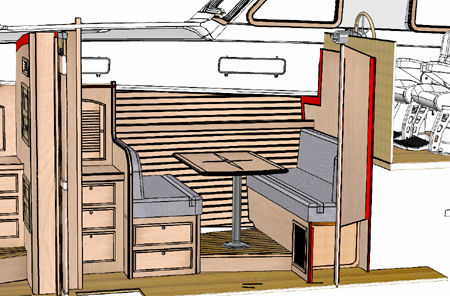 When the 40 Design Team was faced with presenting another layout for the 2nd cabin the dinette idea came forward and I could not have been more excited. This is a layout that works. You see I am blessed with four grandchildren and have a fifth on the way. When kids are on board they want their own space and the 2nd cabin solves that nicely. In the dinette version they can sit up and draw, read or play games at the table. A cruising boater might use this set-up as an office and the table is a perfect space for a lap top. Come bed time and the table can go down and make a nice berth for the grandchildren, a guest couple or maybe even for a snoring spouse.
I am a fan of the dinette ! Are you? Tell us what you think.