If you are wondering what "on the ways" means it refers to the way ships were launched before the days of modern dry dock shipbuilding. The largest of ships slid down the ways and came crashing into the water. It certainly made launch day exciting.
Ship talk aside we are very excited about the upcoming launch of the Sabre 54 Fly Bridge. I will have some great shots of the boat here and on our main web site within 30 days. Meanwhile one of the questions which arises is how we would protect the occupants of the fly bridge from sun or weather. Depending on the market, tops run the gambit from a simple bimini top to a full hard top with heavy weight EZ 2 CY screens. Hull #1 is going with the latter and this very elegant hard top design was created by J+J Marine. Their design uses elegant stainless steel structures and a light weight FRP hard top.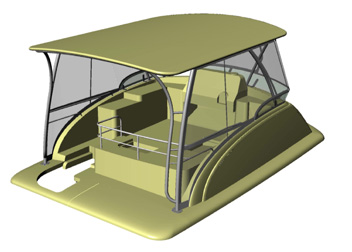 We can't wait to see all of this fine craftsmanship coupled to the bridge of the Sabre 54. She is going to be sensational.