Not many power boat designs in the under 50 foot category offer both upper and lower helms. In the 1960's the first "convertible" was introduced to the market. These boats eliminated the lower helm and blacked out the lower windshield. As the story goes the heavy duty battle wagons that were running offshore at high speeds could not keep the glass in their windshields from breaking so the solution was to simply drop the lower helm and get rid of the glass. Today most boats of this style don't have a lower helm although Ocean Yachts has introduced the "Billfish" series where the lower helm has returned. I like it for a lot of reasons.
In reality most boaters don't want to be outside in cold weather and not as many care to take as much sun as we all once did. A good example of that is the image below. Here, our first 40 Sedan with fly Bridge is running from Bellingham Washington, down to Seattle for the January show. If a brave sole wanted to be on the bridge on that day they would not only be facing 50 degree temperatures but they would also be doing that into a 30 knot breeze. Not much fun.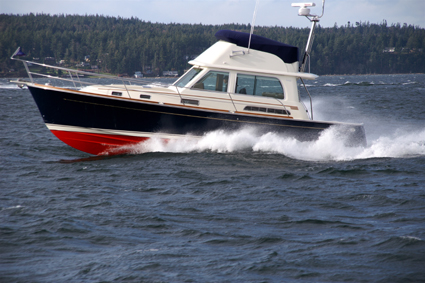 But for Dean Ouilette, one of the principals of Bellingham Yacht Sales, this day was a breeze. Running at 24 knots into the head seas and wind he was comfortably perched in his Stidd Helm chair in the main salon making phone calls and enjoying the day.
I find that boats with lower helms go out more often and their crews ignore the weather and simply get on with enjoying their boats. I'll have a new Virtual tour of the fly bridge model on our web site later this week.