I've often said in this blog that I can be attracted by beautiful drawings of boats and such is the case with the exciting new Sabre 52 Fly Bridge. But, as I have also confessed the passion I feel for a design only multiplies when I see the actual boat coming together. Like many boaters I am a frustrated naval architect, always believing that I and only I can design the most beautiful craft. And I know I am not alone. I've seen many of you using table napkins and the backs of envelopes to draw the next incredibly beautiful "Collins 52". But over the years I have learned that my skills do not come close to those of the real design stars; stars like Kevin Burns who has designed all of our recent motor yachts and is responsible for the bridge design on the Sabre 52.
This morning I arrived at my computer and saw an email from our head of engineering David Newcomb. The title was "test fit of the Sabre 52 bridge", so needless to say before I even popped the lid on my morning coffee I was falling in love all over again. They say that bigger is always more beautiful when it comes to yacht designs and that is certainly the case with this one.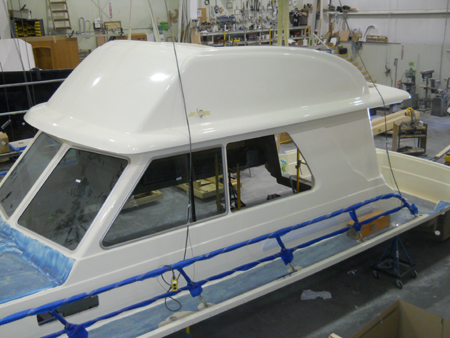 Keep in mind that the aft corners of the house will be cut away and glass will be placed in the recess there which will add even more to the elegance of the design.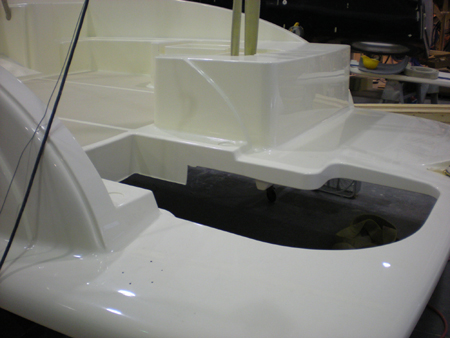 Aft, where the spiral stair comes from the cockpit, the opening to the bridge level is through this sculpted cutout in the hard top and liner. Every detail, facet and curve in this design is eye-catching.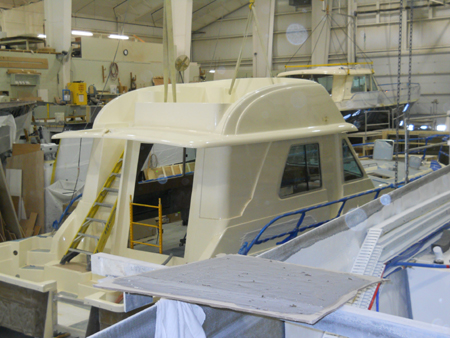 In the foreground in this image is the hull of the boat which is already quite far along with all major pieces of furniture in place and ready to accept the deck when it's ready for mounting. I can't wait to see this boat completed and underway. She is going to be very special.