The Sabre 456 (ex-452) will make a come back in the summer of 2010. This fabulous Jim Taylor design is timeless. She sailed so well that most people would not believe she could compete boat for boat with the likes of the J46 but once the results were in, the Sabre 456 had shown her transom to most of the fleet.
In this new layout, (original version is shown here below) the forward cabin berth will be shifted aft to create an island berth forward for the owner. The owners stateroom will also include a larger dressing area, more hanging locker space and more drawers for personal effects and gear.
In her aft cabin the berth will be laid athwartships so that the guests too will have a queen sized mattress on their berth. They too will enjoy more standing/dressing space in their cabin.
Jim Taylor will be working on a new keel design to really optimize her performance with the latest research.
Look for the 456 launch in mid-summer 2010 !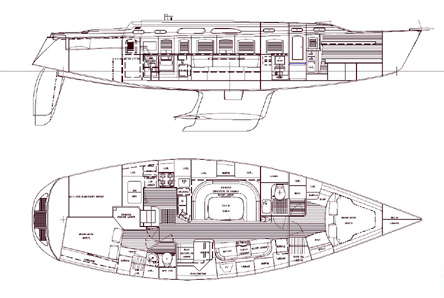 And look for an updated interior layout posting in a couple of weeks from now.