In the deep, dark days of winter it's both hard and easy to think about the boating season and all of the pleasures it has to offer.
It's hard because you know there are 16 more weeks before the season starts again but it's easy because when you are passionate about boating (as I and my family are) all one has to do is summon a memory of time on the water and the darkest, snowiest day can suddenly become warm and bright.
One sure way to rev up your boating enthusiasm is to attend a boat show. Not only are there boats to see, there are new electronics to check out, items to purchase for your boat's stores and at many shows these days there are seminars to attend that will make you a better boater. January through March are the best months of the year with shows in London, Toronto, Seattle, Cleveland, New York, Miami, Boston, Maine and Palm Beach (to name but a few)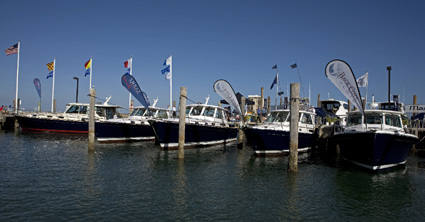 The 2010 versions of these shows are well worth attending for us as boat builders. There is no better opportunity for us to put our best foot forward and show the boating world what we do so well. We can meet prospects, talk with existing owners and do some professional development by checking out what our competitors are bringing to market.
For our customers there has rarely been and will rarely be as good an opportunity to check out what is new and see what manufacturers are offering to entice you to make the step to a new yacht. There are excellent buys to be found on 2009 inventories and there are exciting new developments to see in design and technology that may also encourage you to think about something new at your dock for the start of the 2010 boating season.
So if the dark days of winter are getting you down and boats are what truly make you happy, check out our show calendar and come on down. We would love to see you.