About ten years ago I was at the Genoa (Italy) Boatshow and I visited with a good friend who had recently launched a very traditional looking powerboat called the Romantica 55. I wanted to see how her Italian builder had interpreted the downeast style which, at the time, was gaining in popularity in southern Europe's boating scene. I was blown away by the interior style, not because the layout was particularly different but because of the way light entered and was diffused throughout the interior. Although I was clearly below deck the movement of light throughout the interior made me feel as if I were standing at the edge of a pond with the sun reflecting off it's rippling surface. It was magical.
Shortly after that experience the Sabre Design Team made a decision to install hull port lights and Shoji style passageway doors in our Sabre 52 motoryacht. The marketplace responded in much the same way that I had and since that time we have designed Shoji doors into several models.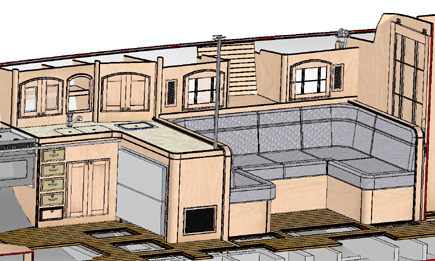 For the first time in the 40 year history of our sailboat line we are bringing the Shoji concept to our sailing yachts. In the Sabre 456 the main salon will have five Shoji elements: The main passageway door to the forward master stateroom and the locker doors outboard of the seating areas.
The movement of light and the increased sense of space will be greatly improved using this age-old Japanese styling technique.