It's no secret that things have been hard in the boating industry. Sales have been slow causing a lot of builders to pull back and wait for the turn around. Not so Sabre Yachts. We chose a very different, more positive path and our sales have been beating the averages of late. Our philosophy is that new products create interest and sales. So, at one of the darkest moments in the GED, our senior management opted to create new models and the Sabre 46 is perhaps the most spectacular of all.
The development of the Sabre 46 is well underway with our first two hulls in assembly and our first deck part released from the mold at sister company North End Composites in Rockland. So there's plenty to show you and I plan to be on the topic for weeks to come as the 46 hull number one comes together.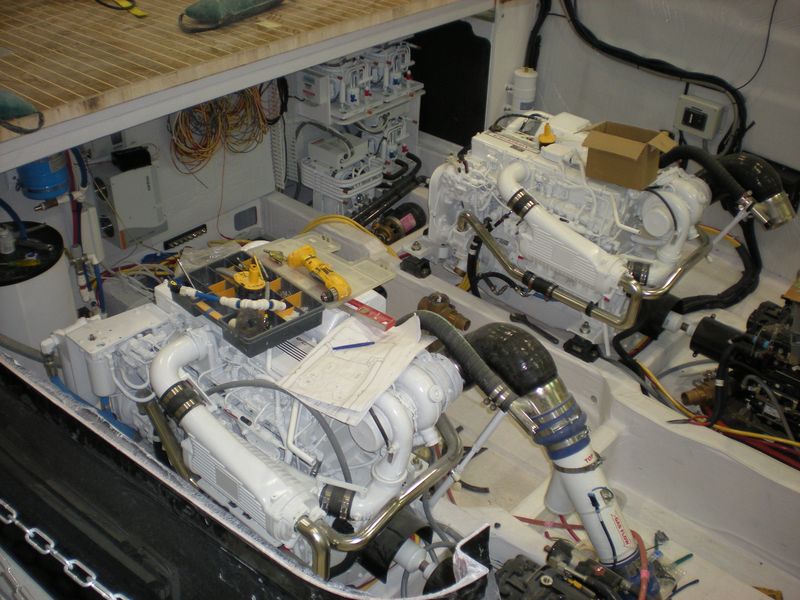 One of the first areas to see real progress are the mechanical systems. The 46 is equipped with twin Cummins QSC 8.3 550 hp engines coupled to Zeus pods. The beautiful thing about pods is that they can be close coupled to the drives which moves engines aft in the hull and creates great space forward of the engine room. In this image you can see that the forward engine room bulkhead is not far ahead of the entrance door to the back of the salon that will come in at the aft end of the teak and holly sole you see at the top of the image. So, in front of the engine room there is plenty of space for the utility room/crew quarters and that is one of the greatest advantages of pods. I spent time in the crew quarters today and there is no finish work to show you yet but it is an amazingly large space with plenty of potential. More on that later.
By the way the gear in front of the starboard engine is the air conditioning system. Having all this equipment isolated to the engine room will make this one of the quietest motor yachts around. Note also that the main salon sole is made with a very thick core to help contain noise in this space and not allow it to enter the living quarters. I can't wait to (not) hear it.