Production of the first Sabre 46 Salon Express has begun in earnest at our shop in Rockland, Maine. "But wait, I thought Sabre's were built in Casco, Maine what's with Rockland?"
In 1993 when Sabre was buying the tooling for the Sabre 43/47 project the owners of our then tooling supplier North End Composites, came to us with an offer to sell us their business. The sale took place and we worked in that original facility for several years. Meanwhile at Sabre we were physically outgrowing our buildings and could no longer mold large FRP parts such as the hulls and decks of our larger sail and motoryachts. Across the road from the NEC building we were presented with an opportunity to purchase the Nautica (clothing) warehouse which consisted of 250,000 square feet of floor space and which suited our boatbuilding operations to a tee. We went ahead and secured the building.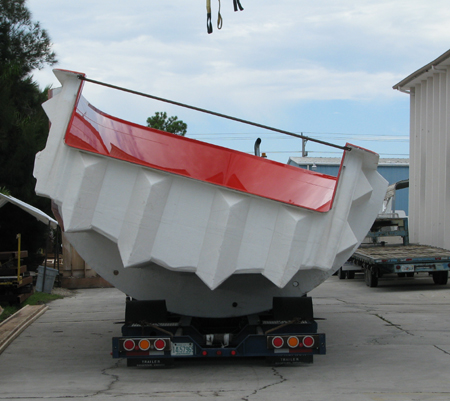 The Sabre 46 hull mold shipping from Florida to Maine
Today we mold fiberglass parts for our larger motor and sailing yachts in Rockland then load them on board trucks for the 75 mile journey to Casco where the fit out of the hulls is done. The 46 hull is now inside the building and being prepped for infusing the first part. The deck mold is following closely behind and is due to arrive in Rockland within six weeks. Launch date is still on target for March of 2011.